The Royal Victoria Infirmary Newcastle chooses the Cardiff Chair
22 August 2018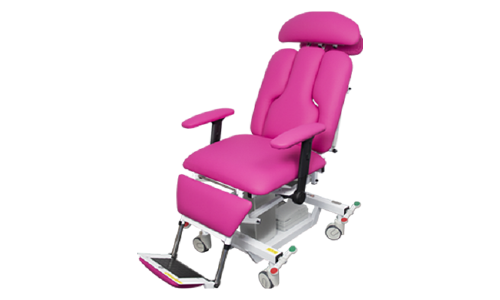 Knight Imaging's Cardiff Chair is purpose-built for mammography and is designed with patient comfort and operator use in mind
Carole McGuire, who works in the Breast Screening and Assessment Unit at The Royal Victoria Infirmary Newcastle, said: "When looking to purchase a new chair for our department, we tested others but found that the Cardiff Chair suited our needs the most. We purchased the chair earlier this year and have been using the chair every day for stereotactic biopsies."
"The Cardiff Chair has great functions compared to others we looked at, such as being able to recline back quickly. Another good feature is that the chair is battery powered, meaning it doesn't need to be lifted up and down manually.
"The sales process with Knight Imaging has been straightforward and the service has been good - we would recommend Knight Imaging."
The Cardiff Chair is a fully adjustable chair for breast imaging, mammography and stereotactic procedures. Being battery powered, the chair also negates wire-trip risk.