The Cardiff Chair puts patients at ease at Musgrove Park Hospital
21 April 2020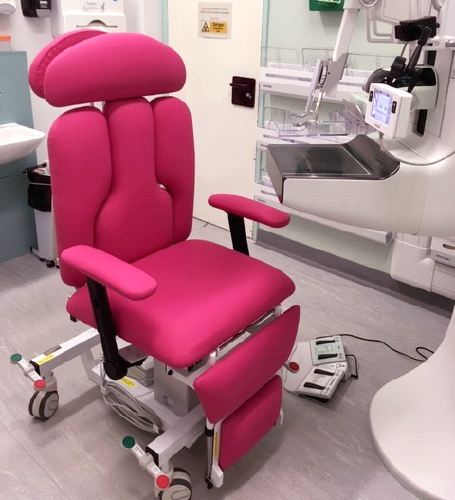 An ergonomically designed pink mammography chair
Musgrove Park Hospital has chosen a custom-made bright pink Cardiff Chair for its busy Breast Care Center.
Part of the Taunton and Somerset NHS Foundation Trust, the Breast Care Center at Musgrove Park Hospital provides a diagnostic and therapeutic service, breast surgery, and a Breast Cancer Family History Service.
Raising breast cancer awareness
The bright pink Cardiff Chair from Knight Imaging was chosen by the breast screening team to match the department's pink theme (the breast cancer awareness color).
Lesley Stephenson, Superintendent Radiographer at Musgrove Park Hospital, said: "We are really happy with the Cardiff Chair, especially as we were able to choose it in pink!
"It is used on a daily basis for breast biopsies within the Breast Care Center."
Putting patients at ease with the Cardiff Chair
Lesley said: "With the Cardiff Chair, you can either sit patients up or lie them down for biopsies, which puts our patients more at ease and ensures they are comfortable throughout the biopsy process.
"The chair is multi-purpose as we also transport patients out of the wheelchair into the Cardiff Chair for easy positioning of mammograms. This is especially useful for patients who are unsteady on their feet.
"The Cardiff Chair is ergonomically beneficial."
Lesley continued: "Overall, the chair is ergonomically beneficial for mammographers in our department and we love the bright pink color.
"The service from Knight Imaging has been great."